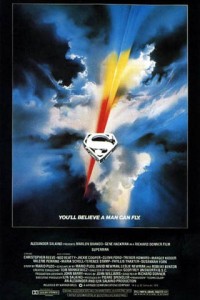 You'll believe a man can fly!
The first feature film adaptation of Superman stars Christopher Reeve as Clark Kent, Marlon Brando as his father Jor-El and Gene Hackman as Lex Luthor. It featured cutting edge technology to convincingly portray a man flying through the air. This blue screen technology would be used in countless films since.
Superman The Movie follows the journey of the legendary superhero from his home planet of Krypton to Earth after its destruction. His father, Jor-El, sends him to earth where he is found by the Kent family, and raised to believe in American values.  He disguises himself as mild mannered reporter Clark Kent and gets a job at the Daily Planet alongside Lois Lane played by Margot Kidder. Lex Luthor traps Superman with the help of some Kryptonite, and launches missiles to destroy parts of the Earth. When Superman escapes, he has only the time to divert one of the missiles while the other hits California setting off a chain reaction that kills Lois Lane.  Superman then flies into space and attempts to turn back time by flying around the Earth repeatedly, thus saving Lois Lane's life.